THE STORY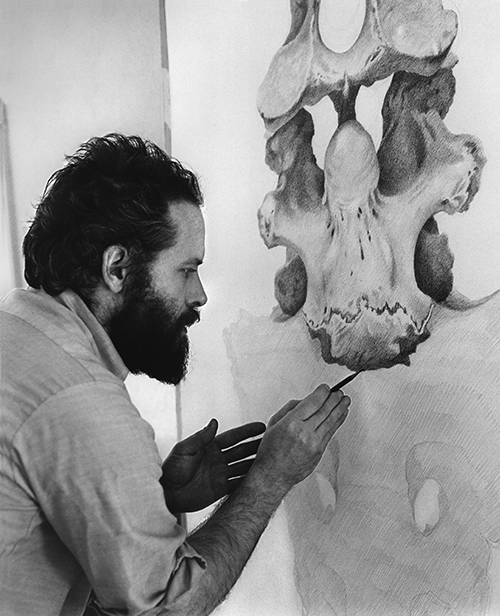 © Rick Souther Photography
"Poustinia" tells of Gendron Jensen, a man passionately devoted to his artistic calling who created detailed, precise images of bones. Though bones traditionally represent sterility and death, Gendron saw them as "portals, thresholden estuaries unto exaltation" representing the very foundation of being. Jensen developed and steadfastly maintained this vision his entire life. He wrote, "There is a majesty inherent in bones… a humbling geography that summons me to map its glories."
Kicked out of a monastery in his 20's, Jensen spent 17 years finding and drawing bones and other "mortal leavings" on his family's rented farm in the north woods of Minnesota. In 1987 he moved to the mountains of New Mexico to embrace new life and love. This move marked Jensen's introduction and immersion at age 50 into the arcane art of stone lithography.
Filmmaker Kristian Berg recreates Jensen's artistic journey; a brief, sincere portrait of a romantic visionary, technical virtuoso, and an original human being.
For more than 40 years this self taught artist obsessively, lovingly transformed found relics into wakeful images of uncommon beauty. His meticulously rendered, often monumental graphite drawings and stone lithographs compel the viewer to see anew to journey beyond ordinary context to a deeper, more spiritual realm.